MBA Ranking
World Ranking: No. 1 Business School in Japan with Top-Tier Standing
KBS ranked among top business schools in global survey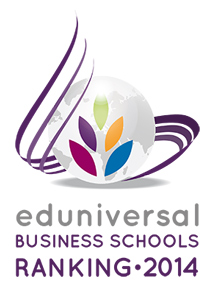 KBS was ranked the No. 1 business school in Japan in the Eduniversal Worldwide Business Schools Ranking 2014* and included in the organization's highest tier (5 Palmes of Excellence) for global business schools.
This ranking evaluates business schools according to the following two criteria.
A survey of 1,000 business school deans in 154 countries, asking them which business schools they would recommend in certain countries.
The business school's level of internationalization, including accreditations (AACSB, EQUIS, etc.) and participation in international business school associations (EFMD in Europe, AAPBS in Asia, etc.).
(The above is a summary of the ranking methodology.)
The ranking of KBS as No. 1 in Japan recognizes the school's long track record of success. KBS will strive to further enhance its academic and research programs to fulfill its role in the business school community in Japan and around the world.
*Eduniversal Worldwide Business Schools Ranking 2014
Ranking conducted by France's SMBG (founded in 1994 as an education consulting company). A 12-member selection committee selects the leading 1,000 business schools in 154 countries and ranks them according to country.
http://www.eduniversal-ranking.com/
No. 1 for Three Years Running
KBS is ranked No. 1 for east Japan in a survey by Nikkei Inc. and Nikkei Human Resources, Inc. on domestic MBA programs businesspeople want to attend. KBS has now garnered the survey's top spot for three consecutive years.
Domestic MBA graduate school ranking (survey of 2,000 businesspeople)
East Japan ranking
No. 1: Keio University Graduate School of Business Administration
Reasons for choosing KBS

High reputation 45.8%
Long history 41.7%
Highly recognized by companies 33.3%
Faculty excellence 18.8%
Curriculum quality 18.1%