Double Degree Program
MBA Program

Keio Business School (KBS) is engaged with MBA-level double degree agreements with ESSEC Business School (France) , WHU - Otto Beisheim School of Management (Germany) and HEC Paris (France). This program enables students to gain bi-cultural insight into management issues.
First year KBS students can apply for this program. Up to two or three students with excellent academic records will be selected for each double degree program. Only successful students who achieved requirements from both institutions will be granted two degrees from both institutions.
The term of the double degree program is two years for the KBS-ESSEC and HEC Paris programs (the same as original KBS MBA program) and two years and three monthes for the KBS-WHU program. Each double degree student is to pay tuition and fees at his/her home institution and be exempted from tuition fees at the host institution.
The Keio MBA Program is mainly taught in Japanese. Therefore, double degree students coming to KBS must be proficient in Japanese.
Program Features
Two Degrees from Two Universities in as Short as Two Years
The students spend a year at KBS and a year in a partner school, graduating in two years (two and a half years in the case of WHU - Otto Beisheim School of Management). Upon successful completion of the degree requirements in both universities, the students will receive two degrees from both institutions. In comparison to the short-term KBS MBA International Exchange Program, double degree candidates are required to complete more coursework in partner schools. In addition, the double degree program has rigorous requirements for language skills and cross-cultural understanding. However, two degrees from world's top business schools provide an advantageous starting point for students who intend to pursue an international career after the completion of their degree.
Extensive International Experience
Since the double degree includes a one-year exchange, it gives the students an opportunity to develop a highly specialized study plan in a field of their study. The program also offers a great opportunity to gain solid international understanding through immersing oneself in a new culture.
Application Process
Outline of the Two-Year Double Degree Program
* In the case of WHU, students take courses at KBS until July of the second year, followed by courses at the partner school from September of the second year until June of the third year. Consequently, students who choose WHU as the second institution remain enrolled at KBS until September of their third academic year.
MBA candidates for the double degree program are selected in November of the first academic year. The selection is based on high personal and academic achievements together with the ability to study in English at partner schools.
* Knowledge of French (ESSEC, HEC) and German (WHU) is not required, but a basic understanding of these languages is highly recommended.
Requirements
Double degree applicants must be enrolled as regular degree-seeking students in their second year at KBS. All nationalities are eligible to apply for the program.
Successful completion of the 7 first year, first and second term core courses with an average higher than the specified minimum
TOEFL iBT: above 100, GMAT: above 600
Specified amount of professional experience
* The requirements are subject to change. An orientation session organized after admission provides more information about the requirements for the double degree program.
Studying at the Partner Schools
Students choose courses from partner schools' management degree course offerings (elective courses in management) at the partner schools. The required amount of credits varies across the institutions.
Before the study abroad, candidates must submit a study plan, followed by a result report at the end of the double degree program. Both of these documents must be written in English and they must pass the evaluation by KBS faculty panel. In the study plan, the students provide a list of courses they would like to study, together with a description of their objective and course selection strategy and future career plans. In the result report, in addition to the listing of the courses taken, double degree candidates are to provide a concrete documentation of their academic achievements in the broad sense including extracurricular activities, career development gained, and results in cross-cultural understanding.
Students enrolling in this program will not participate in seminar sessions under the supervision of faculty advisors, thus there is no additional graduation thesis requirement from KBS.
Costs
When studying abroad, students are exempted from registration fees and tuition fees at host institutions, but they are responsible for travel, living, textbooks, insurance expenses, and other incidentals. In addition, depending on the exchange destination, students may need additional personal expenses.
KBS-ESSEC Double Degree Program
About ESSEC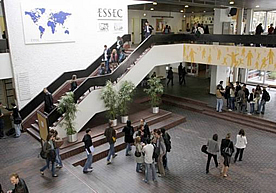 Founded in 1907, ESSEC Business School, Ecole Supérieure des Sciences Economiques et Commerciales, is a major figure in international management education. Researchers of international renown and high-level executives of well-known companies teach the classes. Together, they perpetuate a tradition of academic excellence, the nurturing of character, and a spirit of openness to innovation in the economic and social sectors. www.essec.edu
Admission Criteria for KBS students
Successful completion of the 7 first year, first and second term core courses with an average higher than the specified minimum
TOEFL Results (minimum TOEFL score: PBT 600/ IBT 100)
GMAT Results
24 months of professional experience
Requirements for KBS students for KBS-ESSEC Double Degree Program:
12 courses, including eight core MBA courses at KBS
Elective courses, seminars, and special projects by ESSEC
---
KBS-HEC Paris Double Degree Program
About HEC Paris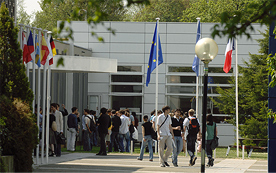 HEC Paris is one of the leading business schools and Grandes Écoles in France which was founded in 1881. It specializes in education and research in management sciences, offering learning opportunities to students from 95 countries worldwide in a dynamic environment. HEC and KBS started international exchange program in 1989, and started offering double degree program to their students in 2012.
Admission Criteria for KBS students
Successful completion of the 7 first year, first and second term core courses with an average higher than the specified minimum
TOEFL Results (minimum TOEFL score: PBT 600/ IBT 100)
GMAT Results (minimum score: 600)
24 months of professional experience
Requirements for KBS students for KBS-HEC Double Degree Program:
12 courses, including eight core MBA courses at KBS
Elective courses, seminars, and special projects by HEC
KBS-WHU Double Degree Program
About WHU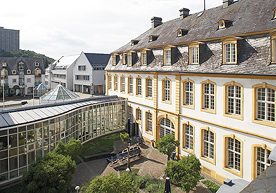 WHU was founded in 1984 at the initiative of the Chamber of Commerce and Industry in Koblenz. After only 25 years, it is considered one of the best and most respected centers of business education in Germany, and also enjoys an excellent reputation internationally. www.whu.edu
Admission Criteria for KBS students
Successful completion of the 7 first year, first and second term core courses with an average higher than the specified minimum
TOEFL Results (minimum score: PBT 600/ IBT 100)
GMAT Results (minimum score: 600)
18 months of professional experience
Requirements for KBS students for KBS-WHU Double Degree Program:
12 courses, including eight core MBA courses at KBS
Elective courses, seminars, and special projects by WHU