MBA Program Overview
LEARN TO LEAD
Curriculum offered by Keio Business School (KBS) delivers an extensive range of management skills and in-depth specialized knowledge required in becoming a leader, as well as a methodology to integrate and enhance these skills and knowledge.
Since its establishment in 1962, KBS has been building a foundation of practical education using the case method, under the spirit of "practical learning," which is embraced in the founding philosophy of Keio University. Based on such foundation, we have been developing business leaders who can draw up and materialize new concepts in the dynamically-changing environment in the modern business community.
Cultivating qualities needed to take a leading role in the global society and refining decision-making capabilities required of leaders - this has been and will always be the mission of KBS.
Education Philosophy
We contribute to the advancement of human society by developing excellent and innovative leaders who have a combination of individual self-reliance, respect for the dignity of others, a clear-cut sense of mission, an outstanding knowledge base, and a strong will to take action.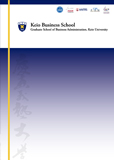 Brochure in PDF Format
KBS MBA = (Quality of Education)2×(Volume of Education)2
Looking ahead amid uncertainty, setting goals based on a clear vision, and making strategic decisions by identifying what is the most important among numerous pieces of information - business leaders are required to have sophisticated capabilities to analyze information and make judgment. They also need to have a sense of mission, enthusiasm, and leadership to guide society and their respective organizations based on their own analysis and judgment. Our world-class management education and an overwhelming volume of learning at KBS enable students to acquire such multifaceted leadership qualities. During the first year, students take eight core courses covering eight major areas of business management and gain knowledge on these areas through heuristic case method approach. This knowledge serves as the foundation for required management skills. At the same time, they learn how to utilize this knowledge organically and in an interdisciplinary way through the mandatory Business Game course. The second year is designed to deepen students' capabilities in their respective areas of specialization, turning these capabilities into their strengths in the practice of management. They take a set of specialized courses according to their own career plans and refine their abilities to identify and solve problems in small-group seminars. KBS also offers various international programs that help students develop international business sense.
The "T" Development Model
KBS develops leaders of character proficient in their respective areas of specialty and core management skills.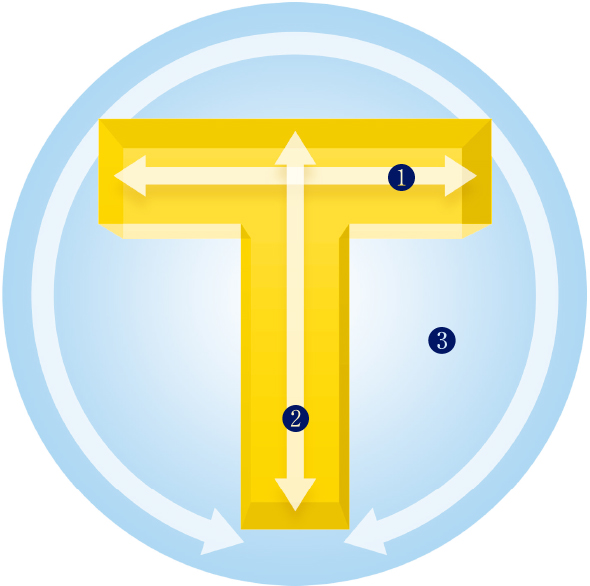 ❶

Core Management Skills (horizontal bar)

Core courses covering eight major areas
Business Game course
Lay a solid foundation for management skills.
❷

In-Depth Knowledge and Functional Expertise (vertical column)

Specialized courses

Seminars

MBA thesis

International programs

Develop in-depth, specialized capabilities and knowledge for future career development, tailored to each student's interest and career goal.
❸

Leadership Development (enveloping circle)

Heuristic education based on the case method

Educate, train and inspire future leaders of society and organizations, equipped with a sense of mission, strong mind, deep insight, creativity, and a broader view.
Overview
KBS was established in 1962 as Japan's first full-fledged business school. In 1978, our one-year program, which was introduced in 1969, was dissolved and evolved into the country's first two-year MBA program. Since then, remaining loyal to the spirit of "practical learning" embraced in the founding philosophy of Keio University, we have been working to develop business leaders matched to the needs of the times on the basis of practical education using the case method. We also started providing a Ph.D. program in 1991 for the purpose of developing professional researchers specialized in business management.
Our MBA program is full-time schooling program, requiring students to attend class sessions basically on campus on weekdays.
| | MBA program |
| --- | --- |
| Major | Business administration |
| Admission | April |
| Number of students to be admitted | 100 |
| Degrees to be granted | Master of Business Administration |
Leadership Development
Committed to Your Success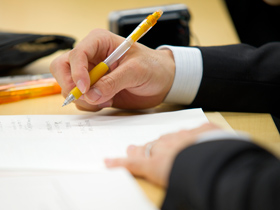 Across industries, increasingly complex, global, and advanced economic activities have served to necessitate more specialized managerial functions and refined administrative techniques in various functional areas of business administration, including production, sales, finance, and personnel affairs. With the trend moving toward increasing sophistication and specialization, leaders are now required to have highly-developed skills to fuse and coordinate activities of these professionals in order to accomplish the goal of their respective organizations.
Additionally, technological advancements, including those in the field of information technology, have brought new possibilities for economic activities, while changing people's lifestyles and triggering a shift in their needs that the said economic activities must satisfy. Our individual economic activities must also pay even greater attention to the effects we may cause on macro-economic issues, such as growing environmental problems and resource constraint issues.
Our MBA program aims to develop excellent and innovative leaders equipped with abilities to accurately foresee a range of changes, fuse and coordinate activities of highly-skilled professionals, and forge ahead and accomplish truly valuable organizational objectives in the modern economic environment in which people interact more closely and globally.
Our Three Policies
Admission Policy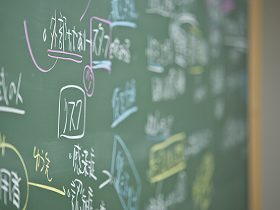 Entrance examination for our MBA program is held twice every year in early October and late January. In the first-stage exam, we conduct the screening of applicants on the basis of their application documents, mainly using applicant questionnaire that tells us why they apply for our program and what their career plans are. The second stage consists of a written exam and an interview. For applicants of foreign nationality, we also check their Japanese language proficiency during an interview, because our mandatory core courses are primarily provided using the case method with discussions in Japanese. The only qualification we require applicants is that they are graduates of undergraduate schools or equivalents, and application is open to any major fields of study. Work experience is not a requirement, but for developing human resources capable of playing an active role in practical business management, we require applicants to have problem consciousness concerning business and business management as well as clear reasons for applying for our program and well-defined career plans.
Curriculum Policy
Our MBA program is a two-year, full-time schooling program. During the first year, all students are required to take eight mandatory core courses that cover eight major areas of business management. From the latter half of the first year to the second year, we offer elective specialized courses in each of the eight academic areas, from which students select and take those corresponding to their respective areas of specialization. Also during the second year, students must enroll in a seminar class offered by a faculty member and write their MBA thesis over the course of one year. Our two-year program is quite demanding in terms of work load, as many of our courses utilize the case method, requiring students to prepare for class discussion in advance. We have adopted this style of curriculum because of our belief that gaining a broad understanding on the basics of business management and then acquiring in-depth knowledge in one's particular area of specialization are extremely important in implementing practical business management. For students wishing to study abroad, we offer an international credit exchange program, which counts credits earned at one of our overseas partner business schools as credits required for graduation.
Diploma Policy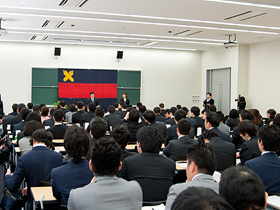 We award Master of Business Administration degree to students who have completed our MBA program. To complete the program, students must satisfy three requirements: completing the eight core courses with grades exceeding a specified level; earning a specified number of credits for specialized courses; and gaining approval for their MBA thesis. Although not many overseas business schools require students to take a seminar class and develop an MBA thesis, it is our belief that writing an MBA thesis is essential in acquiring specialized knowledge. Moreover, because our course sessions are based on the case method, we do not allow students to repeat a year due to poor grades. Students whose average grade point for the core courses offered in the first year is below our specified level are not allowed to proceed to the second year. In addition to the core and specialized courses, we initiated double-degree programs in 2009 with top-ranking overseas business schools. Under the double-degree programs, students spend one year at KBS and another at one of our partner business schools. If they show excellent academic achievement at both schools, they will earn two MBA degrees, one in Japan and another overseas, in two years.