Academics
Our MBA Program is aimed to develop business leaders with both professional managerial skills and a sense of responsibility to society and to corporate citizenship. An emphasis is placed both on particular skill sets required in a specific business function, and on developing well-balanced skills to be an effective general manager who is capable of integrating multi-faceted business operations.
Program Overview
The two-year full-time MBA Program is designed to promote overall administrative capabilities, which can facilitate development of such managerial qualities as mental toughness, deep insight, creativity and a broad perspective that is commonly required for managers in various industries.
Such capabilities can help managers find core problems in daily business activities, appropriately analyze situations, propose creative and systematic, alternative course of actions, and develop and implement strategies for future growth.
Time Table

Keio Business School uses the trimester system; six terms are spread over two years.
The first term runs from April through July (Spring Term), the second term runs from September through December (Fall Term), and the third term runs from January through March (Winter Term).
Academics
The MBA Program consists of two major activities; core class sessions based on the case method and MBA thesis development. Eight core courses are designed to provide basic management skills, and elective courses are offered to further strengthen specific functional skills and to facilitate deeper understanding of general management issues.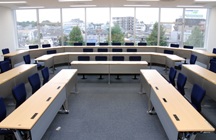 Size and Demographics
Each year, approximately 100 applicants from a wide range of industries and interests are admitted to the MBA Program. Although the program is primarily conducted in Japanese, ten to fifteen percent of the students come from other countries.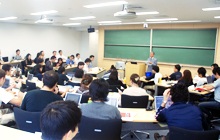 Language Requirement
Most MBA Program classes are conducted in Japanese except for courses offered to exchange students from overseas business schools. Full-time students, therefore, will use Japanese in class discussions, and for reading and writing assignments. A good command of Japanese is mandatory for foreign students.