The Graduate School of Business Administration, Keio University (Keio Business School, hereinafter KBS) was first granted accreditation by AACSB International (The Association of Advance Collegiate Schools of Business) in 2000 and has been granted renewal four times. KBS was also the first institution in Japan to be granted EQUIS (European Quality Improvement System) accreditation in 2011, and had renewed it twice until June 2020.

AACSB International
The Association to Advance Collegiate Schools of Business
AACSB International, based in Florida, the United States, was established to guarantee, maintain, and improve the quality of management education. As the United States government does not have its own accreditation body for universities and postgraduate schools similar to Japan's Ministry of Education, Culture, Sports, Science and Technology, AACSB International created its own accreditation system. As of April 2020, 874 institutions in 56 countries and territories have been granted AACSB accreditation. (Most of these, however, are located in the US, where many of the most prestigious business schools were founded.)
The oldest business school in Japan, KBS has been constantly striving to enhance its competitiveness in our rapidly globalizing society. Our international accreditation is proof that the educational curricula and research activities, faculty, students and alumni of KBS are equal to those of the world's top management education institutions.
For over half of a century since our founding, our unwavering mission has been to provide higher education that meets global standards. Our alumni are established as key players on the international stage. In order to nurture excellent managers who will lead in global business, KBS is determined to further enhance its educational and research activities, share up-to-date information that both academics and practitioners value, and actively participate in business school communities in Japan and around the world.
To facilitate global exchanges for research and education, KBS actively promotes collaborative research, faculty exchanges, and student exchanges through membership in international business school networks.
International Networks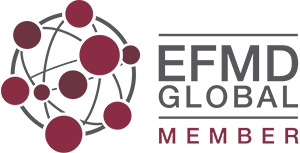 EFMD
European Foundation for Management Development
EFMD, an international membership organization based in Brussels, aims to continually improve the quality of management development education by providing a unique forum for information-sharing, research, and networking among educational institutions and corporations.

AAPBS
Association of Asia-Pacific Business Schools
AAPBS was formed in 2004 with the goal of raising the quality of management research and education in the Asia-Pacific region. The association currently has 131* members comprising business schools, business groups, and companies collaborating on research and educational initiatives.
*Combined total of full, associate, and corporate members

PIM
Partnership in International Management
PIM is a consortium of 60 business schools in 38 countries collaborating on research and student exchanges. The organization was formed in 1973 to promote international exchanges among business schools. Today, PIM is a hub for the promotion of a broad range of international exchange initiatives, including student exchange, double degree programs, student and faculty interactions, joint program development for students, and collaborative research.