History and Milestones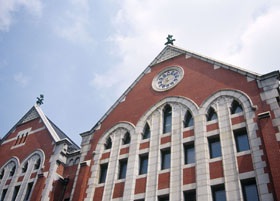 Keio University, the first private university in Japan, was founded in 1858 by Yukichi Fukuzawa, who is often called the intellectual father of modern Japan. Over the last 150 years, Keio University has become known worldwide as a premier educational institution.
Keio University established its Business School in 1962 and launched graduate-level educational programs to develop skilled and innovative business managers.
In 1978 KBS launched the first MBA program in Japan. In accordance with the key principles of self-respect and pragmatic thinking espoused by Yukichi Fukuzawa, KBS produces distinguished leaders who take initiative in reforming established business activities and starting new ventures to contribute to the advancement of society.
History
1956

Keio-Harvard Advanced Management Seminar was launched

1962

Keio Business School was founded to provide management seminars and prepare for the launch of graduate-level educational programs

1969

A one-year, non-degree professional general management education program was launched

1978

A two-year MBA program was started as Graduate School of Business Administration

1988

The MBA program started the international exchange program

1991

A Ph.D. Program was established

2000

KBS became the first institution in Japan to receive AACSB accreditation (renewed twice for five years in 2005 and 2010)

2009

MBA double-degree programs were launched (with ESSEC in 2009, with WHU in 2010, and with HEC in 2012)

2010

Renewed AACSB International accreditation

2011

Acquired EQUIS international accreditation for management education from EFMD

2012

Held KBS 50th Anniversary Conference

2012

Jointly held the Council on Business & Society 1st annual international forum in Paris

2014

Organized the Council on Business & Society 2nd annual international forum at Kyosei-kan, Collaboration Complex, Hiyoshi Campus, Keio University

2014

Renewed EFMD accreditation

2015

Launched Executive MBA program
Renewed AACSB International accreditation

2017

Renewed EFMD accreditation

2020

Renewed AACSB International accreditation
Milestones
Approximately 23,000 students have completed executive seminars
Approximately 3,900 students have graduated from the one-year program or the graduate programs (master's and Ph.D programs)
Statistics
Graduation & Attrition Rates For The Past 6 Years(As of May 1, 2022)
MBA Program
| Year of enrollment | # of newly enrolled | Attrition rate | Graduation rate |
| --- | --- | --- | --- |
| 2017 | 96 | 3.1% | 96.9% |
| 2018 | 103 | 2.9% | 97.1 |
| 2019 | 86 | 1.2% | 98.8% |
| 2020 | 81 | 2.5% | 95.1% |
| 2021 | 93 | 2.2% | - |
| 2022 | 69 | 0.0% | - |
EMBA Program
| Year of enrollment | # of newly enrolled | Attrition rate | Graduation rate |
| --- | --- | --- | --- |
| 2017 | 46 | 2.2% | 97.8% |
| 2018 | 45 | 0.0% | 100.0% |
| 2019 | 50 | 0.0% | 100.0% |
| 2020 | 51 | 0.0% | 100.0% |
| 2021 | 55 | 0.0% | - |
| 2022 | 55 | 0.0% | - |